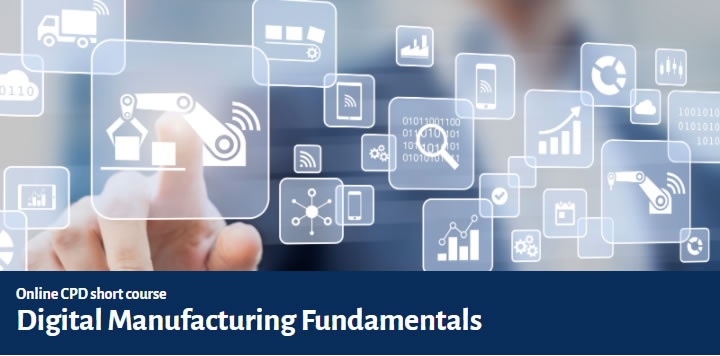 Course details
This short course has been developed to provide you with the introductory knowledge and understanding of key concepts for Digital Manufacturing, including current practices, tools and processes, and possible future development routes for you to understand how you can improve your business or future endeavours.
The course costs £400.
This course fee includes access to MyPlace – our online learning platform, the course material for one year and a digital certificate of completion if you pass the final course test.
More details course information
is available on the university "Study with us" pages
Duration
We would recommend that this online course provides 8 weeks of learning material, at 10 hours a week.
The benefit of online learning is you can progress through the educational material at your own pace, and complete the course quicker or slower than the average 8 weeks. You will also gain access to the course material for a full year, so that you can refer back to your notes or material after completing the course.
This course will be launching in 2021, and once it has launched the course will be available for students to start flexibly throughout the year.
Key Learning outcomes
Current state of digital manufacturing,
Tools and processes, Identifying areas of challenges requiring further development
Digital manufacturing developments
Life-phases, challenges and technologies
Industry 4.0, Smart Products, Internet of Things, Cyber Physical Systems, Integration through life
Benefits of digital manufacturing, The resources required for digital manufacturing
What will I receive?
keep up to date with advancements in the field of digital manufacturing
interactive and flexible learning
explore industry case studies and learn from real world challenges and opportunities to evolve
benefit by learning directly from an expert in the field
gain competitive edge by being ahead of the curve with digital manufacturing trends
stand out when applying for jobs or promotions